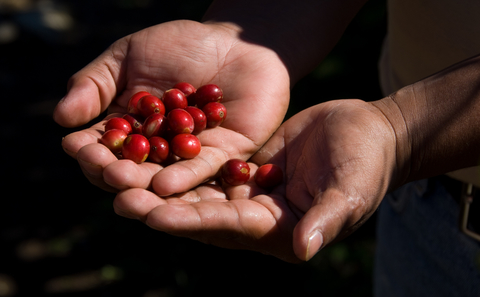 We have a special new coffee we would like to introduce to you! Organic Haitian Blue Mountain Coffee! This medium roasted coffee is mellow and smooth, has a rich nutty flavor with notes of chocolate and flowers.  This is a medium bodied coffee with lower acidity and a buttery mouth feel.  It is grown at high altitude in the wet mountainous area of Haiti, in the same type of soil as Jamaica's Blue Mountain area and is the same varietal that is grown there.  It is a low yielding variety that is resistant to the leaf rust that is prevalent in Haiti. This coffee could be the one big thing that helps stamp out poverty in the most impoverished of countries. The growers are paid more than fair price for this coffee, which helps the economy grow in a sustainable way.
Haiti has been a nation of poverty for years.  Hungry.  Needy.  Then the devastating earthquake of 2010 hit.  The country still had not finished rebuilding after the earthquake, and along came Hurricane Matthew in  October of this year.  It was a category 4 storm that hammered the island with heavy rainfall, powerful winds and dangerous storm surges.  The storm did a lot of damage, ripping roofs off houses, destroying homes and flooding villages.  Probably the most devastating of all was the crops that were destroyed.  Food sources have been completely wiped out in some areas.  Survival is looking grim for a lot of people in the hardest hit areas of western Haiti.
How much do we care?  A lot. Enough that we are donating 100% of all profits from this Organic Haitian Blue Mountain Coffee to assist Hurricane Matthew victims in Haiti.  Sometimes a person can become discouraged in the face of this wide spread need, but we ask you to do one small thing.  Please purchase one bag of this coffee.  And every time you drink this delicious coffee (silky smooth, nutty with a buttery mouth feel) say a prayer for the people in Haiti.  I believe this will make a difference in the lives of many people.  And you will be blessed.
The money will be donated to Confidence Health Clinic in Haiti, whose primary goal in Haiti is to provide better health care.  They are very involved with the community, and were some of the first volunteers to walk to the hardest hit areas of the island, where they assessed the needs and gave medical care.  They work closely with the locals, sourcing local labor and supplies whenever possible. With this non profit, we are confident that the money we send will reach the people immediately, and will be spent for the most pressing needs.
Consider together with me this story:
A young man is walking along the ocean and sees a beach on which thousands and thousands of starfish have washed ashore.  Further along he sees an old man, walking slowly and stooping often, picking up one starfish after another and tossing each one gently into the ocean.
"Why are you throwing starfish into the ocean?" he asks.
"Because the sun is up and the tide is going out and if I don't throw them further in they will die."
"But, old man, don't you realize there are miles and miles of beach and starfish all along it? You can't possibly save them all, you can't even save one-tenth of them!  In fact, even if you work all day long, your efforts won't make any difference at all."
The old man listened calmly and then bent down to pick up another starfish and threw it into the sea. "It made a difference to that one."
So we invite you today to join in with us in support of the Hurricane Matthew relief work in Haiti.
"Making a difference, one cup at a time"